The gaming headset market is one rife with gimmicks. Intense surround sound (which admittedly isn't all that gimmicky anymore), vibrating earpads, customizable LED lights, or an included DAC with separate modes for different devices—if you want it, someone's got it, for a price. It's rare that something avoids all that in favor of just delivering rock solid audio, especially at an affordable price. With the arrival of the SteelSeries Arctis 1 Wireless, it's no longer just the HyperX Cloud Alpha in that category.
Who is the SteelSeries Arctis 1 Wireless for?
Nintendo Switch Gamers waiting desperately for a decent wireless audio solution, or just looking for a good wireless headset that works with most devices.
At-home workers who want something wireless that sounds good and lasts a long time.
People looking for wireless headphones that work with USB-C phones and don't rely on Bluetooth.
What's in the box?
The SteelSeries Arctis 1 Wireless comes with everything you need to connect to just about any device. Alongside the USB-C RF dongle, there's a USB-A adapter cord, 3.5mm cord, and micro USB charging cord. Apart from that, there's also the detachable boom mic.
What is the SteelSeries Arctis 1 Wireless like?
The Arctis 1 Wireless is, in a word: impressive. This is the wireless gaming headset to use a USB-C dongle. It's built from the same framework as the SteelSeries headsets like the Arctis 7 and Arctis Pro, with solid sound and a decent mic. It's also only $100.
This update to the previous Arctis 1 is aimed at Nintendo Switch owners, who previously had no good option for wireless audio. Before this headset's debut, any USB-based headset worked only when the console was docked, and 3.5mm headphones were only ideal when undocked in most setups because stretching a cord across your living is just terrible. With the Arctis 1 Wireless, it's easy to swap between docked and undocked play; just take the small dongle out of the adapter and slap it on the bottom of the Switch and this bad boy's ready to go.
The SteelSeries Arctis 1 Wireless is primarily a plastic headset, forgoing an aluminum suspension frame of more premium headsets in the line. It features a plastic band with a comfortable leatherette cushion. The headphones sport the airweave fabric headphone pads typical of SteelSeries products, which are soft and keep things from heating up.
Overall, this is a very comfortable headset—the band clamps down pretty tight, which makes it feel very secure, and creates a great seal too—but the headphones aren't very deep. My ears usually made contact with the fabric covering the speakers. Something like that might get a little uncomfortable during long gameplay sessions for people with especially large ears. I never had an issue, but when you're using something for hours on end, even minor quibbles can turn into serious discomfort.
The headset also sports on-ear controls, with a volume dial and mic mute switch on the left headphone. It's 3.5mm mic is detachable, which is nice if you decide to take them out and about connected to a phone or mobile device that sports a USB-C port—something that also works well, though it adds bulk.
Gaming with the SteelSeries Arctis 1 Wireless
My time gaming with the Arctis 1 was a real treat. The USB-C dongle and USB-A adapter made gaming on the Switch convenient, but they also open up other options. The Arctis 1 works just as well on the Playstation 4 and PC as the Switch (the Xbox One still doesn't support USB audio headsets that work on other platforms).
Hopping from Untitled Goose Game on Switch, to The Outer Worlds on the Playstation 4, to games like Overwatch and League of Legends on PC, I never had any issues. This gaming headset handled the low-key jazzy soundtrack of Untitled Goose Game just as well as the gunfire-and-explosion-heavy profile of Overwatch. This is a stereo headset, so surround sound isn't an option, though Overwatch's game-level surround sound setting worked well. Surround sound isn't necessary in most games, so this really isn't an issue.
Typical of every SteelSeries gaming headset, the Arctis 1 Wireless is also compatible with the company's Engine audio software. However, since surround sound isn't an option, and there isn't any decorative LED lighting, there's little you can do in the app that you can already control using the headset's hardware control, other than checking the battery life (which is otherwise a little difficult to gauge).
Chatting over Discord was similarly great. The Arctis 1's mic is probably its weakest part, but the headset is Discord certified, much like every other SteelSeries headset. It's not at all clear what a Discord certification really means, but clarity in voice calls was never an issue, and the program recognized the headset notably faster than most gaming headsets I've used.
Battery Life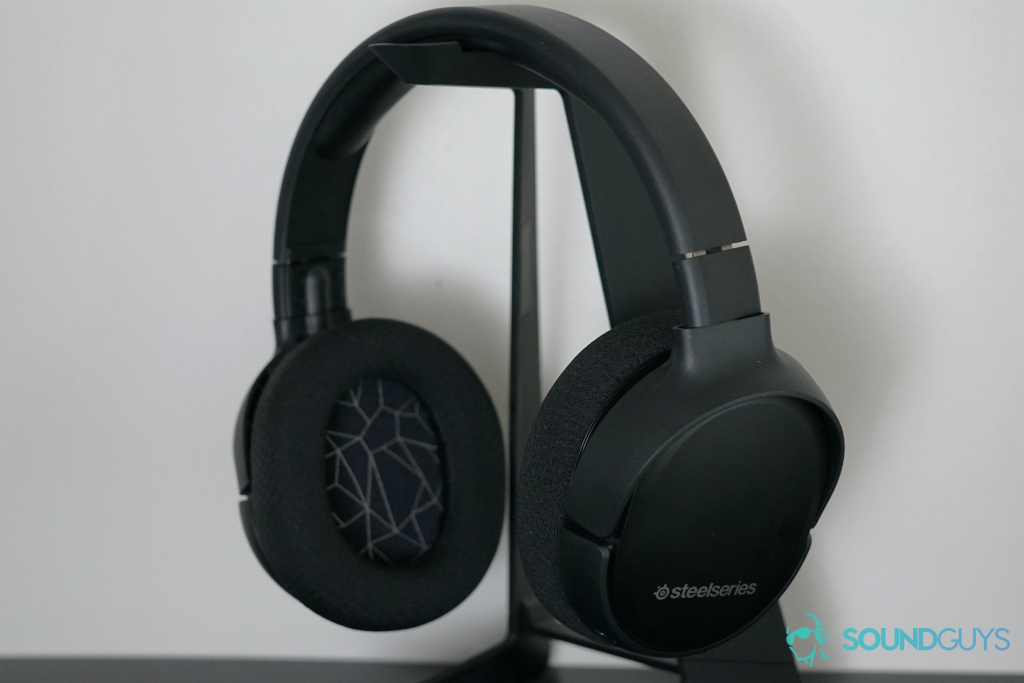 SteelSeries boasts on the box that the Arctis 1 Wireless can last up to 20 hours on a single charge. As impressive as that is, it seems to be a bit of an understatement. In our testing, the headset lasted 25 hours and 22 minutes on a single charge, but you might get even better performance out of it than that. Our test runs at ~75dB, which can be a little on the loud side for some people.
How does the SteelSeries Arctis 1 Wireless sound?
I won't mince words here: The Arctis 1 Wireless offers more accurate sound than more expensive headsets in its own product line. With the exception of a slight over-emphasis on sounds at around 100Hz and a dip around 2KHz, this headset puts out pretty neutral sound across the frequency spectrum.
In game, this means explosions and gunfire won't sound any louder than they should. It also means parts of speech in the high range, like sibilant sounds (F, S, and Sh sounds) won't get lost over voice chat as easily, though that also depends on the microphone of whoever you're talking to.
In music, this means you shouldn't have much trouble with different instruments drowning each other out when they're not supposed to. For instance, In Miles Davis's chaotic masterpiece "Give it up," you won't have much issue keeping track the very slight guitar riffs in the background or the slap bass line despite the booming bass drum and trumpet dominating the low and high ends of the song.
The Arctis 1 Wireless offers pretty standard isolation for a gaming headset, though its airweave pads definitely let in more sound than leatherette. You shouldn't have much issue from the typical noises of the home. This won't fare so well outdoors or in a noisy cafe, which is unfortunate given how device-friendly it is.
The Arctis 1 Wireless' detachable 3.5mm mic puts out sound pretty well in line with most gaming headset microphones. It de-emphasizes sounds in the bass range, which means people with deeper voices might not sound quite right, and it's a little on the quiet side. The notable dip around 1000Hz is rather uncommon, as it's not a particularly high frequency. Regardless, I didn't run into any notable issues with clarity.
Recording a mic sample, I noticed it sounds a little tinny, but if you're using it primarily for Discord calls: it's nothing the program's sound features can't fix.
Should you buy the SteelSeries Arctis 1 Wireless
Yes, absolutely.
The SteelSeries Arctis 1 Wireless is the kind of product that doesn't come around very often. It's affordable, comfortable, and it sounds as good as a headset triple the price—that it's wireless is just icing on the cake. Comparisons to the HyperX Cloud Alpha come to mind (and favorable comparisons at that). If you want a great gaming headset, whether or not you're on a budget, you'll be hard pressed to find a better headset—especially if you're looking for something for Nintendo Switch.
A few considerations are still worth making. If you're a Fortnite obsessive and really want something with surround sound, something like the SteelSeries Arctis 7 is only a little more expensive. If you're concerned about the headphones being too shallow, or you game primarily on the Xbox One, the Cloud Alpha is the same price, plugs into console controllers via the 3.5mm jack, and arguably sounds a little better.
Outside of those situations, there's little reason not to get the SteelSeries Arctis 1 Wireless—it's just that good.
Disclosure: We may receive affiliate compensation in connection with your purchase of products via links on this page. Even though we may receive compensation, we always give our honest opinions, findings, beliefs, or experiences on each product. See our ethics policy for more details.