Razer is all but synonymous with gaming at this point. It knows who its target audience is and the company also knows that good audio can really take your gaming experience to the next level. That confidence leads to some really interesting products. Case in point, the Nari Ultimate gaming headset. Razer touts "supreme wireless immersion" thanks to specialized drivers in each ear cup that provide haptic feedback to vibrate along with the bass. So is the Razer Nari Ultimate good or just a gimmick?
Editor's note: this post was updated on Razer Nari Ultimate review was updated on December 20, 2021, to expand the list of buying options, add a contents menu, add an Alternatives section, and to add context to the sound quality section.
Who is the Razer Nari Ultimate for?
What's so special about the build of the Razer Nari Ultimate?
The Razer Nari Ultimate is a fairly heavy pair of headphones weighing in at 432g. Still, this is comfortable even with their heavy build. The ear pads are huge and made of synthetic leather. The pads even have hidden divots in the cushion for people who wear glasses, which is a nice touch.
Razer obviously put their Chroma RGB lighting in these
Just like the Nommo Chroma speakers, this has a minimal approach to RGB lighting. The Razer logo on the side of each ear cup glows but isn't super bright. It's pretty great, especially in low-light situations. What isn't great are the two wheels on each ear cup which feel cheap. The buttons are fine, but the wheels are not smooth at all. Scrolling with them just isn't as smooth as a pair of headphones that cost $199 USD should be.
What is Razer Hypersense?
Hypersense is the selling point of the Nari Ultimate and Lofelt designed the haptics. This provides haptic feedback for the low end via specialized drivers in each ear cup. The feature adds depth to the game you're playing by letting you physically feel what's going on in the game. This covers the "immersion" part of the marketing for these headphones.
Unfortunately, the feature is pretty hit or miss as far as practicality goes. It's particularly annoying when watching movies or YouTube videos, as seemingly every sound sets off a small vibration that has nothing to do with what's going on. And when it comes to listening to music it can be both enjoyable and annoying. The haptics feel way too strong to me even during regular listening. According to Razer, you should be able to adjust the intensity but it's a little wonky, leading to plenty of questions like this on forums.

Does the Razer Nari Ultimate stay connected?
The connection strength is pretty good with the Razer Nari Ultimate. To use this wirelessly, you have to plug a USB adapter into your computer or console. Luckily, you can pop the USB adapter out of the storage spot on the right ear cup which is super nifty. You can't use this headset with your smartphone, because it's only for devices with a standard USB. You can plug into any smartphone via the 3.5mm cable and a dongle (not included).
Learn more: How to connect your gaming headset
While gaming, one of the little wheels is also dedicated to mixing game and chat audio together. You can switch between game audio and chat audio, and everywhere in between. Just scroll the wheel to get the perfect balance for you. Above that is a dedicated mute button, and below is the power button, which also lets you know how the battery is doing depending on what color it is.
How to connect the Razer Nari Ultimate to PS4, Xbox, or PC
In order to connect the Razer Nari Ultimate to your PS4, Xbox, or PC, you'll need the wireless adapter. It's a tiny USB dongle that you need to plug into your preferred machine. Using the dongle should give you a slightly longer range than usual. You'll get 12m of range as opposed to the typical 10m you find in most Bluetooth gaming headsets. This means that you can enjoy audio from across the room with minimal lag, and this worked perfectly in my experience.
How to connect the Razer Nari Ultimate to a phone
If you tend to play games on mobile or on the Nintendo Switch, which doesn't have any USB ports for the dongle to fit into, then you're going to need to go wired. Thankfully this has a 3.5mm input so you can just use any standard audio to plug into your source device.
Does the Razer Nari Ultimate work on the Sony PlayStation 5?
Yes, you can connect the Razer Nari Ultimate to a PlayStation 5 with the aux cable. Alternatively, you can connect the 2.4GHz adapter to the PS5 and it should connect instantly. Sometimes, you need to enter the PlayStation 5 menu to ensure the audio is set correctly: Settings > Sound > Audio Output.
How is the battery life on the Razer Nari Ultimate?
As far as battery life goes, we measured 8 hours, 22 minutes when we put the Nari Ultimate through our standard test. As always, we had the headphones output around 75dB(SPL) which is the recommended listening level if you want to avoid noise-induced hearing loss.
How do you charge the Razer Nari Ultimate?
Charging is simple as you just need to plug in the included microUSB cable into the bottom of the ear cup. Unfortunately, the Nari Ultimate doesn't charge via the newer USB-C.
Does the Razer Nari Ultimate block out noise?
On the isolation front, the Nari Ultimate does a decent job. The headset can't compete with noise cancelling headsets, but it can keep the sounds typical of home life at bay. You shouldn't have any trouble ignoring noisy roommates in another room or the occasional sound of traffic out a window. The low rumbles and noises of walking around a city will still come through, but you probably won't be doing a lot of walking around with this.
How does the Razer Nari Ultimate sound?
When listening to music the overpowering haptics ruin the music-listening experience for most modern songs. Listen to the song Run by Vampire Weekend, because of the rolling drums and bassline, the headphones end up constantly shaking. That said when it works, it really works.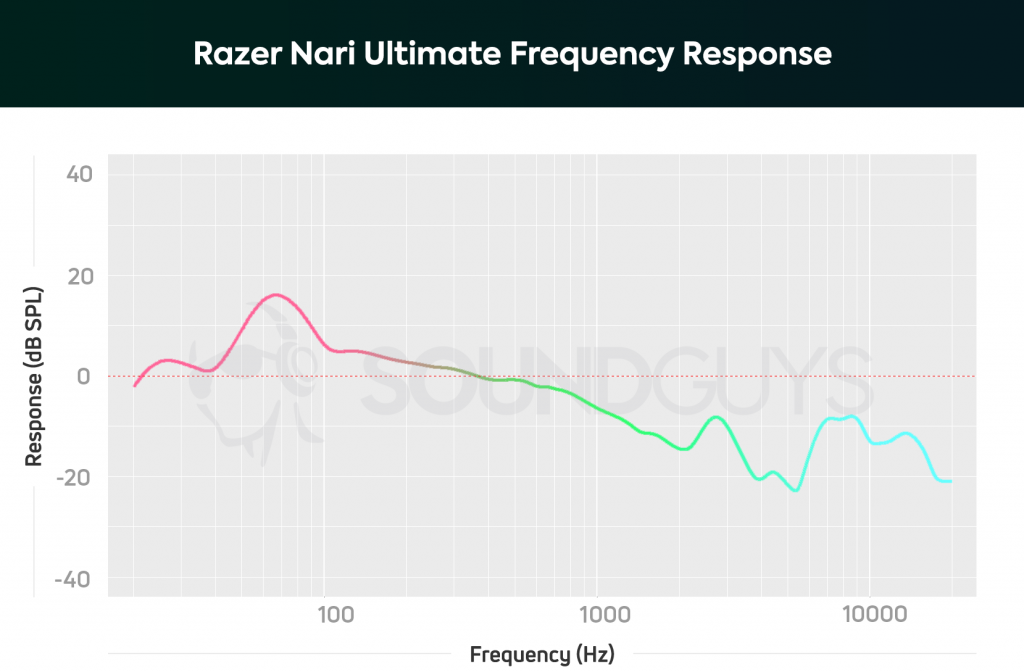 The Nari Ultimate de-emphasizes mids and highs quite a bit.
This feature is insanely fun while listening to older New Orleans-style style Jazz. During the song Trouble in Mind by Snooks Eaglin, the soft feedback of the headphones really make it feel like a live performance. You could easily mistake the soft, rhythmic thump for a bass kick at a show. That alone makes the Razer Nari Ultimate worth it for me as I mainly listen to old Jazz while I work. That said, mids lack clarity which is weird considering part of the reason you'd get this headset is to communicate with people while gaming.
You might like: The best Razer gaming headsets
The Nari Ultimate under-emphasizes sound around 300Hz, affecting the mids and highs. For a gaming headset, this can be a bit of an issue in some games. Subtler sounds like footsteps, speech, and non-explosion noises typically occupy the midrange and can get lost in the boom of explosions.
The lack of emphasis in the highs can distort the sounds of musical instruments like strings and cymbals. On high volume, the claps in Frank Ocean's song Pyramids all but disappear after the initial hit. There's none of the reverb I'm used to hearing.
Does the Razer Nari Ultimate have a good microphone?
The first thing we should probably discuss is the microphone quality, because the Razer Nari Ultimate has a retractable mic that you can use when you need it, and hide when you don't. For a quick sample of how it sounds in use, click the video up above.
See also: The best gaming mics
The Nari Ultimate's mic doesn't have too much trouble clearly reproducing the sounds of the human voice, but it struggles with the low end. As you can see from the graph, frequencies under 1000Hz are very under-emphasized, which means those of us with deeper voices will sound a little distorted or tinny.
Is the Razer Nari Ultimate worth it?
Though I'm not entirely sold on the build quality of the Razer Nari Ultimate—especially at the price of $199 USD—it's a fun headset. Though you can use it for music, this is made to provide another layer of immersion when gaming… and Hypersense does the trick.
Those who want to stick within the Razer family may want to read up on the Razer Kraken Ultimate for its integrated THX 7.1 surround sound, Chroma RGB lighting, and retractable mic. The Razer BlackShark V2 is another great pick with solid sound quality, isolation, and a comfortable fit. It has a more subtle look to it, but average microphone.
All prices listed in USD unless otherwise specified. Prices may change over time, and vary by region. Unfortunately, we cannot list Amazon prices on the site, as they vary greatly by currency.
If you choose to dive into the Razer Nari Ultimate headset, be sure to do a little research on any retailers you may have in mind. Amazon is most consumers' go-to choice when it comes to delivery, but other vendors still exist too. Make sure you read up on a headphone retailer's warranty, customer service, and return policy before buying. If you don't know where to start, we have a little recommended reading to help you along.
What should you get instead of the Razer Nari Ultimate?
If you need your headset to have haptic feedback, then the Corsair HS60 is a good alternative to the Razer Nari Ultimate. This weights quite a bit too at 676g, but its original retail price is just $129 USD. Today, you can get the HS60 for less than $100 USD, making it a very good headset with a solid microphone.
Gamers who don't need haptics and want to spring for a versatile gaming headset should check out the SteelSeries Arctis 7P, a slightly less premium version of the Arctis 9 Wireless. With the Arctis 7P, you get a very comfortable fit and headband suspension system along with good sound quality, and impressive 27-hour battery life. This is primarily built for PlayStation 5 gamers because it doesn't come with any surround sound software.
Frequently Asked Questions