Despite being far more popular than the PC market, the console space is actually kind of a funny spot for gaming headsets. No gaming headset for the current generation of consoles is fully compatible with each console, and when they do work, there's often features left behind on PC—most commonly, surround sound. By and large, these problems won't be fixed any time soon, but that doesn't necessarily mean you need to settle for fewer features on a console.
The Sony PlayStation Gold Wireless Headset brings wireless audio and surround sound to the PlayStation 4 (and PlayStation 5!) for under $100. On paper it's an impressive product, but is it actually any good?
Editor's note: This review was updated on April 15, 2021 to include a microphone score based on the results of our reader feedback poll. Thanks for voting!
Who is the PlayStation Gold Wireless Headset for?
Playstation gamers who want something comfortable for the living room.
People with small ears.
What's in the box?
Not a lot comes in the box with the PlayStation Gold Wireless Headset. There's the headset, its included USB RF dongle, and a micro USB charging cable. Also, if you're someone who'd get excited about that kind of thing, there's a code for PlayStation-themed Fortnite skin.
What's the PlayStation Gold Wireless Headset like?
One thing becomes very apparent after only a little while; this headset is geared toward getting out of your way as much as possible—for better and worse—and a big part of that comes down to what it's made of. The PlayStation Gold Wireless Headset is primarily a plastic headset. It's extremely lightweight, made with a single plastic band covered in artificial leather. It solidly clamps down without issue, but not so much to feel any noticeable pressure.
The headphones are round, and rather low profile. To account for this, Sony added a much steeper angle inside the ear cup, so your ear really feels nestled in the headphone. Personally, I found this extremely comfortable, but if your ears are even a little on the larger side, it won't be. Even slight pressures can become pretty acute after a couple hours of gaming, and this seems designed for too narrow a range of ears. It should go without saying, but gamers with glasses would find anything terribly favorable here, either.
If you're in that lucky group with the right size ears, you're in for something pretty comfortable. I almost forgot I was wearing the headset a few times during testing, that is, at least until I needed to change any of the settings.
The PlayStation Gold Wireless features an assortment of buttons and switches ringing the left headphone. On the back there's a volume rocker, surround sound button, and a mic mute button. On the front there's a power switch and a rocker for adjusting game sound and chat balance. Frankly, it's all a bit much. All the buttons feel the same, and I often found myself fumbling around for far too long when all I wanted was to lower the volume.
Connectivity
The PlayStation Gold Wireless Headset connects to devices using a 2.4GHz RF USB adapter, so you won't have to worry about the audio lag Bluetooth sometimes brings. When the battery runs out, you can always plug into a PlayStation controller using the included detachable 3.5mm cord. The 3.5mm connection doesn't support surround sound, but at least you won't have to wait to use the headphones until they're recharged.
How is the battery life
Sony doesn't make any claims about how long the battery for this headset is supposed to last, but in our testing we found it managed just over 8 hours and 8 minutes of continuous playback. You might find you get more than that, given that our test runs a little louder than many listen to headphones (~75dB). However, if you play with surround sound on the whole time, you likely won't even see that 8-hour mark.
Gaming with the PlayStation Gold Wireless Headset
Playing games with the PlayStation Gold Wireless Headset is a pretty easy experience, with a couple of drawbacks. Obviously, this is a PlayStation-centric headset, and that's the platform you'll have the best time with. The headset brings 7.1 virtual surround sound to PlayStation 4, without the need for added software—it's just (yet another) a button on the left headphone (to be clear there is an optional app, but you're not missing anything by ignoring it). It also works just fine on the PlayStation 5, though its built-in surround sound doesn't work—the PlayStation 5 uses its own onboard spatial audio standard.
Playing games like Fortnite and Star Wars Jedi: Fallen Order, it became immediately apparent how well the surround sound function works. There's nothing quite like being able to toggle between stereo and 7.1 on the fly to really notice the difference. The difference in Fortnite was exactly as significant as you'd expect, with game sounds like footsteps and gunfire coming from what felt like every which way. However, I was really struck by how surround sound affects ambient sound in Fallen Order — the insect sounds and animal yelps of Bogano really envelop you as you run around the world.
The experience on PC is considerably less notable. Surround sound isn't supported on the platform, so you're stuck with stereo sound, and volume control gets pretty weird. When you plug the PlayStation Gold Wireless Headset into a PC, the computer side volume control fully doesn't work. The only thing that will raise or lower the volume of the headset is the rocker on the left headphone. The actual gaming experience on PC is fine, but the volume issue certainly puts a damper on things.
How does the PlayStation Gold Wireless Headset sound?
All told, the PlayStation Gold Wireless Headset actually has pretty decent audio for a gaming headset. There's a slight de-emphasis in the bass range, but otherwise the headset outputs accurate audio to around 3,000Hz. The dip after that is relatively shallow, and most likely there to avoid natural resonances in the ear.
When playing games, this means you shouldn't have any issues making out the sounds of footsteps or speech, even when confronted with a hail of gunfire.
In music, the significant de-emphasis in the very low bass range means some sounds, many of which are most common in EDM, might be a little bit harder to hear than they otherwise should. However, you mostly shouldn't have any issue hearing every part of a given song.
Likewise, the de-emphasis in the high's might make the sounds of some strings and cymbals a little bit harder to hear, but nothing too major. The Stan Rogers classic Watching the Apples Grow features myriad guitar and fiddle parts all layered on top, but the PlayStation Gold Wireless Headset never struggled with clarity at any point.
When it comes to isolation, well, the PlayStation Gold Wireless just isn't very good. It's comfortable, but the headphone pads are pretty thin. That's not such a big deal for a gaming headset, though. The average open and close of a door or the whirr of the fridge aren't exactly the big distractions and noises something like ANC is built for. Just don't expect to hear much if you take it outside.
However, achieving even this meager isolation result is predicated on you being able to adequately form a seal around your ears. I didn't have much issue when I was using the headset, but I also had a hell of a time fitting them on our testing unit—people with larger ears will probably have similar issues.
How is the microphone?
The microphone of the PlayStation Gold Wireless Headset is, in a word, bad. From a frequency response perspective, it's got a pretty significant dip in the bass range, which can make deeper voices sound pretty distorted. The over-emphasis in the high range makes sense, as it will make sibilant sounds (F-, S-, and SH– sounds) come through more prominently.
However, the real issue with this microphone doesn't show up on the frequency response chart. There's a pretty significant issue with clarity here, and it seems to largely stem from the fact that the mic is embedded in the left headphone, rather than attached to a wire. It sounds a little bit like you're talking into a tin can. Have a listen for yourself:
Loading poll
Should you buy the PlayStation Gold Wireless Headset?
If having microphone is a low priority, and you want some decent surround sound on PlayStation 4, maybe.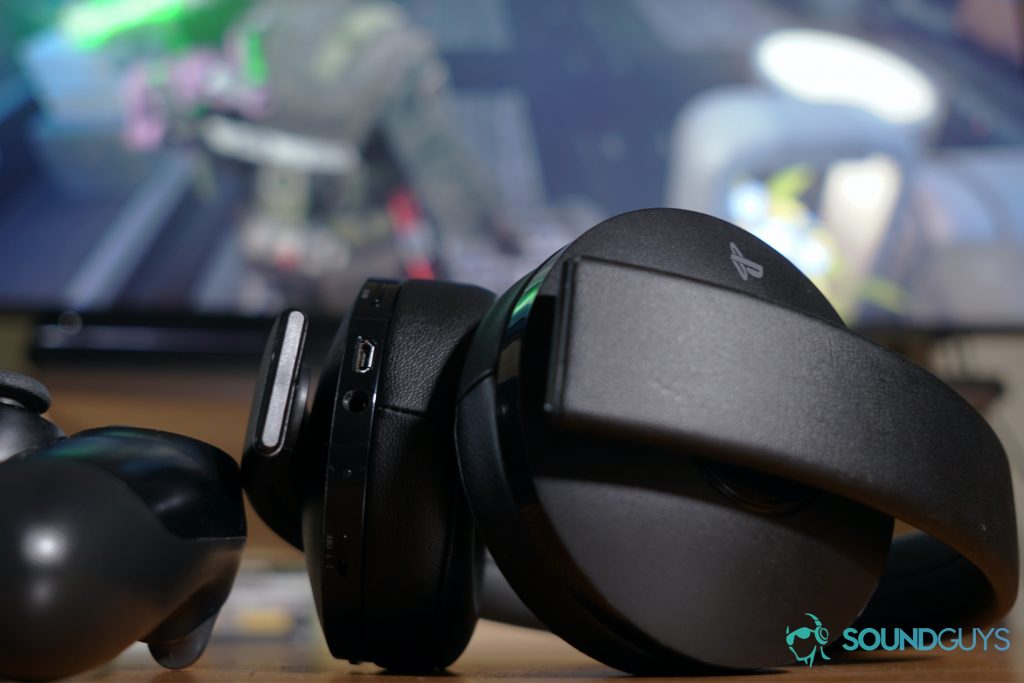 The PlayStation Gold Wireless Headset makes a clear effort to really just get out of the way—everything about it is low profile, for better and worse. If your ears are small enough to fit, this is an extremely comfortable headset, and light enough that you'll hardly notice it. The inclusion of surround sound, and without the need for additional software no less, makes this is a very solid pair of wireless gaming headphones.
However, that low profile approach really hurts the mic performance, and it makes the buttons all feel pretty similar, so feeling around for them gets a little frustrating. If you want something geared more towards extended voice chat sessions, even a wired headset like the HyperX Cloud Alpha or the Fnatic React would probably be better. Really anything with an attached boom microphone will do better than this. If you're in the market for something with slightly more battery life, headsets like the SteelSeries Arctis 7, HyperX Cloud Flight S, and Razer Thresher Ultimate are all great wireless options, albeit at increasingly higher prices.
Don't miss: Best wireless gaming headsets
All told, the PlayStation Gold Wireless Headset is a solid gaming headset if you're into playing single-player games, and a less solid one when other people get involved.
Frequently Asked Questions
Is the mic better when the headset is wired?
Unfortunately, no. When you're dealing with an internal mic like the one in the Playstation Gold Wireless headset, it's just not going to sound great, regardless of your connection method.
Can the PlayStation Gold Wireless headset be connected to an external microphone so I can hear myself?
The PlayStation Gold Wireless supports 3.5mm connections, so if you're trying to connect it to an external microphone that has a headphone jack, it'll work just fine. However, whether you'll be able to hear yourself comes down to the microphone's features. Something like the Blue Yeti supports monitoring, but not all detached microphones do.
Will the Playstation Gold Wireless Headset be compatible with the PlayStation 5?
We don't know just yet exactly what peripherals will be compatible with the new generation of video game consoles. Sony has indicated there will be a level of support for older hardware with the PlayStation 5, but the console is launching with a brand new surround sound system, and headset's tailored to a standard 7.1 virtual surround sound setup likely won't be full functional. We'll update when we know more.
Can you connect the Playstation Gold Wireless Headset to your phone?
The Playstation Gold Wireless Headset can connect to smartphones via a 3.5mm headphone jack, but it doesn't support multiple connections at once. If you want to swap back and forth, you're going to be getting up a lot, too—the wireless USB connection always takes precedence.