Few companies hold a tighter grip on the consumer audio market than Bose, but the Bose SoundSport Wireless are a tough sell in 2020. After all, the company has since released two generations of true wireless workout earbuds, hedging its bets that the future is (totally) wireless. Still, if you don't need the modern comforts afforded by true wireless earbuds, the SoundSport Wireless may be right up your alley.
Editor's note: this review was updated on November 15, 2020, to address FAQs about the Bose SoundSport Free and Bose Sport Earbuds.
What is it like to use the Bose SoundSport Wireless earbuds?
Taking these out of the box I thought to myself, "There's no way these are going to work." Though the ear tips that go in your ear haven't changed, the housing has. The wired SoundSports were nice and thin, but these are huge and bulky. It makes sense since all of the Bluetooth components had to go somewhere. Not to mention the new battery they stuffed inside that powers it all.
When you put them on, they bulge out of your ears to the point where you may think they're bound to fall out. Despite the precarious fit, the earbuds stay in place, even during exercise. The StayHear+ sports tips are fully responsible for keeping the SoundSport Wireless workout earbuds in place. They're not the sleekest looking ear tips, but they're functional and that's what counts. On top of the right earbud is a single button responsible for pairing and powering them on, but you'll still have to use the in-line mic and remote for playback controls. The control module and wire are also nicely constructed and don't go flying around, which is something that can't be said of old Jaybird earbuds.
These earbuds are a hard plastic, which is expected considering they're sweat-resistant. Still, there's been a few reports of people having issues with sweat damaging the headphones, which isn't beyond the realm of possibility since they lack an official IP rating. My personal experience with these earbuds was great: I tested these by running every day for about two weeks and they still function perfectly.
Bose includes the wireless headset, a small carrying case with a carabiner clip incorporated into the design, a microUSB charging cable, two different sized sets of StayHear+ tips, and the instruction booklet.
Do the Bose SoundSport Wireless stay connected?
The SoundSport Wireless connect to your phone via Bluetooth 4.1, and have NFC for tap-pairing. The range is pretty average at about 10 meters and works well enough. I noticed that there was very minimal skipping when running with my phone strapped to my left arm (four times in a week), and no skipping whatsoever when it was strapped to my right. So if you hate jumpy music, make sure to keep your phone on your right side.
Become an expert: Bluetooth codecs 101
Just like the Bose QuietComfort 35 II and Bose Noise Cancelling Headphones 700, the SoundSport Wireless supports just two Bluetooth codecs: SBC and AAC. This means that iOS devices can stream high-quality audio to the earbuds, but certain Android phones may struggle to do so. Android is unable to properly encode the AAC Bluetooth codec across its multitude of supported devices, so streaming is inconsistent. Some Android users may even have more consistent audio quality over SBC, the lowest-common denominator of Bluetooth codecs.
How long does the Bose SoundSport Wireless battery last?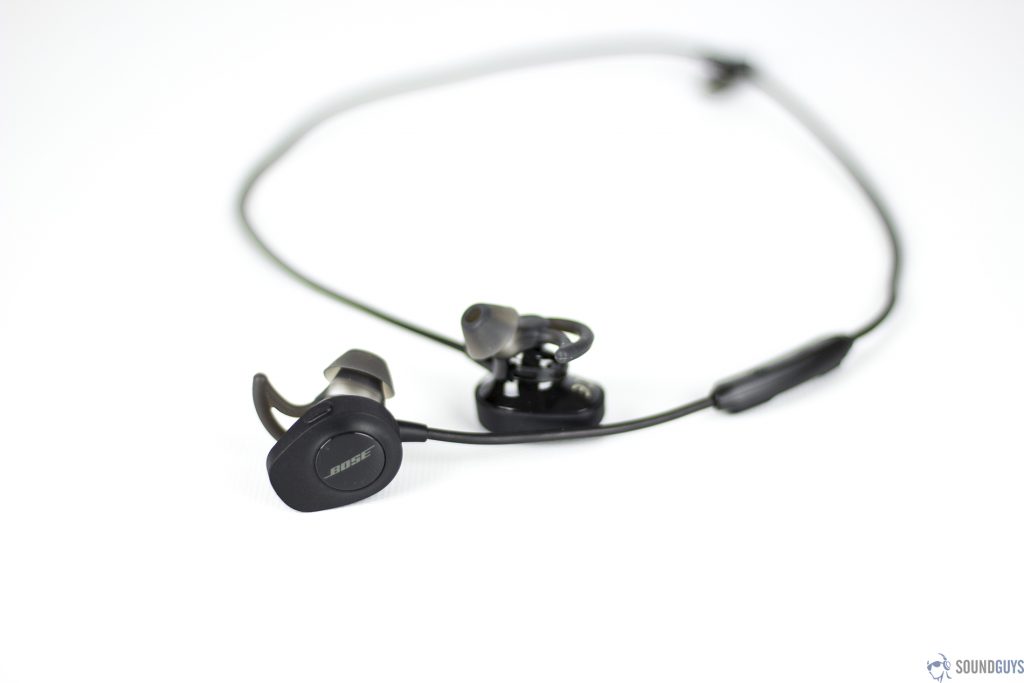 The SoundSport Wireless last 6 hours, 45 minutes on a single charge, which surpasses the specified six-hour battery life. It's not too great if you're playing non-stop, but in real world usage this lasted me the entire work week. It takes two hours to completely charge the earbuds, and they don't support fast charging.
How do the Bose SoundSport Wireless sound?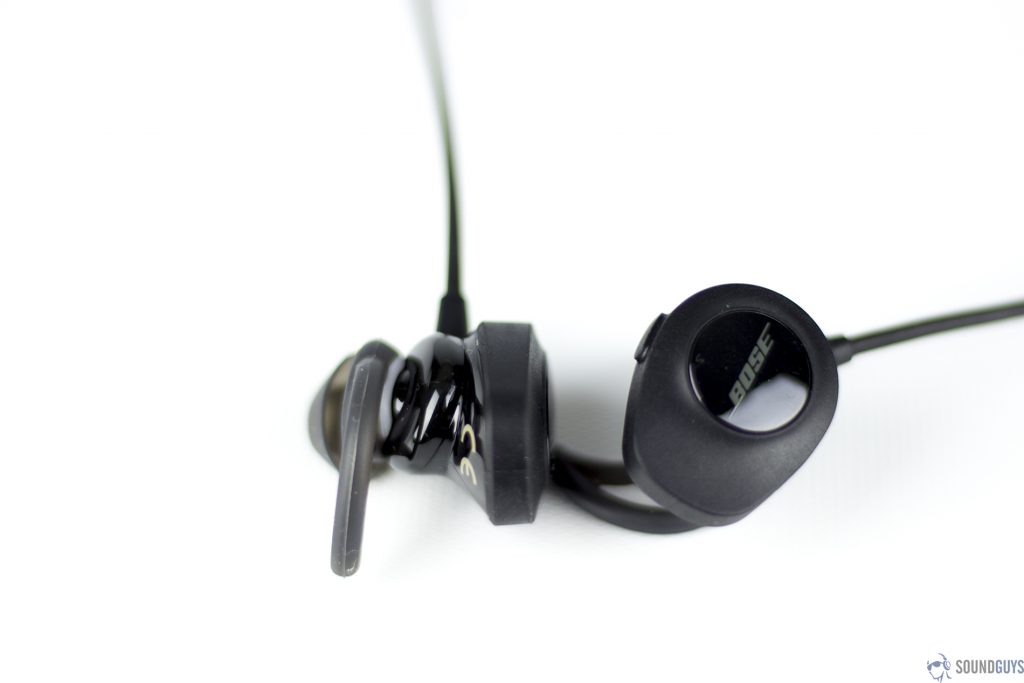 This should probably go without saying, but I did all of the testing while running with the headphones connected to my phone.
If you're looking for accuracy you shouldn't be looking into Bluetooth exercise headphones. That said, bass reproduction isn't so dramatically emphasized that it completely masks all detail from your music. It's good enough to keep you focused on the beat during a workout but you won't feel a skull-shaking rumble with these earbuds. For that, you'll need to consider the Beats Powerbeats.
Related: Beats Powerbeats review
Isolation isn't the best, but this is the nature of the StayHear+ ear tips. They don't create an uncomfortable suction sensation to the ear, so you're left with a fine fit, but one that fails to fully block out background noise. If you want workout earbuds with a tight seal, you should look at the Jaybird X4 or Jaybird Vista instead.
Should you buy the Bose SoundSport Wireless in 2020?
The Bose SoundSport Wireless are, and have been, the favorite workout earbuds of many athletes. They earned their spot at the top of everyone's list: sound quality is much better than most workout earbuds, even by 2020 standards, and the fit is very secure.
All prices listed in USD unless otherwise specified. Prices may change over time, and vary by region. Unfortunately, we cannot list Amazon prices on the site, as they vary greatly by currency.
Sure, the price hasn't dropped as much as we'd expect for years-old earbuds, but that's Bose for you. If you loath to use true wireless earbuds but want a versatile wireless solution, we still recommend the Bose SoundSport Wireless in 2020, just know that it has its limitations and shortcomings relative to more modern picks.
Next: Best workout earbuds
Frequently asked questions about
Should I get these or the Bose Sport Earbuds?
How do these compare to the Bose SoundSport Free?
Do they block out noise?