You may have forgotten, but Apple bought Beats a few years ago for a lot of money. And while the company puts most of its efforts into the AirPods and AirPods Pro, it hasn't completely forgotten about the Beats brand. The new Beats Flex is basically a tweaked pair of BeatsX at a lower price point. The Beats Flex has Apple-exclusive features, but it also plays well with Android phones.
Even though the Beats Flex is fairly affordable, is it worth it?
Editor's note: this Beats Flex review was updated on November 12, 2021, to update formatting and make note of the Beats Fit Pro.
Who should get the Beats Flex?
Anyone who doesn't want to spend money on AirPods. At this price, the Beats Flex is a fine deal as they offer a lot of the features found on the AirPods, minus the true wireless design.
People who need to find a gift for someone. The Flex comes in four different colorways and is a good stocking stuffer for holidays or birthdays.
iOS users. While these wireless neckbuds work well with Android, you'll really get the best value if you pair them with an iOS device.
What's it like to use the Beats Flex?
The Beats Flex is great for everyday use because the soft-touch plastic makes the headset very lightweight at just 18.6 grams. This is good if you plan to have the neckband on all day, as you'll barely feel the buds weighing you down. The cables are very long, so you'll deal with long loops where the earbuds connect to the neckband. Thankfully the anti-tangle cable design works, and the cable shouldn't ball into a giant knot in your pocket.
When you're not using the Beats Flex, you can snap the earbuds together magnetically, which makes it a little more manageable. The magnetic earbuds aren't just for organization: they also pause your music when snapped together. Music playback immediately resumes when they're separated, too. If you separate the buds when you receive an incoming call, the headset automatically answers the call. Although this is neat, I disabled it to avoid accidentally picking up spam calls. This isn't as handy as having integrated proximity sensors like the AirPods, but it's still useful.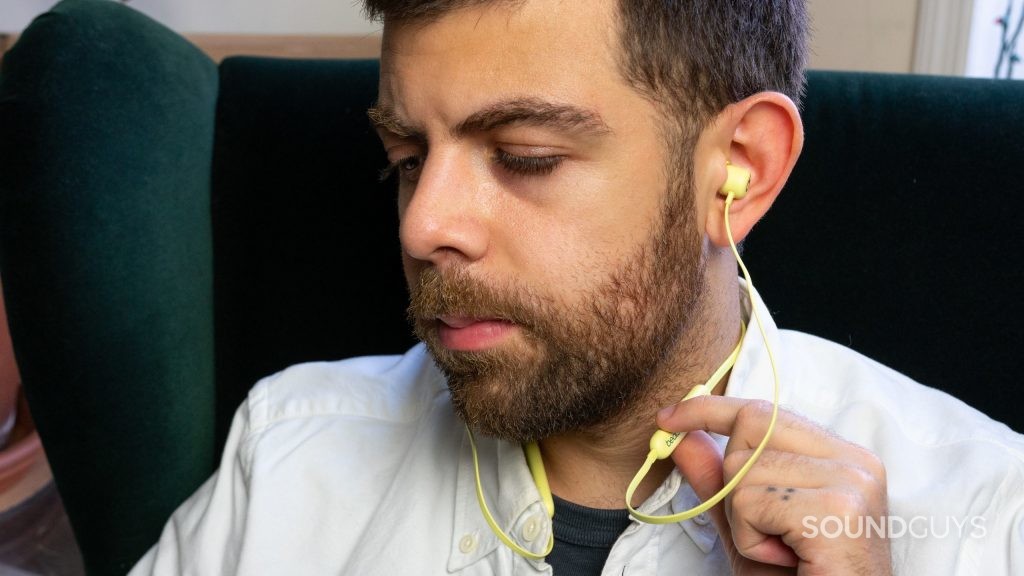 The buttons are located on two control modules.
No matter what operating systems run your life, you won't have any issues with playback or connection stability. In order to switch between devices, you will have to take the time to enter your phone's Bluetooth settings. You must manually disconnect from the current device, before connecting to the desired device. This isn't an issue if you live in the Apple ecosystem thanks to the W1 chip, but for the rest of us, that time adds up quickly.
The earbuds allow for a decent fit, but it's not great. Sure, they don't fall out, but they always feel like they're about to. To remedy this Beats includes a few extra pairs of ear tips for a better fit.
My ears work best with the double-flanged tips, but your mileage may vary. As long you don't plan on working out with this, the fit shouldn't pose much of an issue. For daily chores and errands, the Beats Flex is perfectly fine, but it doesn't have an official IP rating to protect against water damage.
How's the connection strength of the Beats Flex?
The connection strength of the Beats Flex is great, especially when compared to its true wireless counterparts. This rocks Bluetooth 5.0 and supports the SBC and AAC Bluetooth codecs. This might pose some issues if you're on an Android device, our testing shows AAC has its issues with the OS, but this depends on your hardware. The lack of aptX support is frustrating, but AAC is perfectly acceptable at this price point.
How do you pair the Beats Flex?
As soon as you put the earbuds in pairing mode a card will pop up on your iOS device.
When you power on the Beats Flex for the first time, it will automatically enter pairing mode. After that, things get interesting since the process varies depending on whether you use an iOS or Android device. If you're using something else, then the pairing process is simple. All you need to do is hold down the power button, and wait for the headset to enter pairing mode. From there just look through Bluetooth settings in your source device, and select the Beats Flex.
How to pair the Beats Flex on iOS
For iOS users, the Bluetooth pairing process hasn't changed from the last few Apple and Beats headsets. Once you power on the headphones, a white card will pop up on your iPhone or iPad. All you need to do is click the "Connect" button, and the headset will initiate a connection to your device, and all other devices on your iCloud account.
These allow for seamless switching between devices linked to your iCloud account.
The W1 chip also enables audio sharing, so you and a friend can listen to the same thing—so long as they have a compatible pair of Apple headphones. Think of it as the wireless equivalent of handing a friend your left earbud while watching something on your phone.
How to pair the Beats Flex on Android
If you're on Android, the process is a little different. Apple sneakily includes the easy connect card onto Android phones, but this requires you to download the Beats app first. Once you download the app and give it the appropriate permissions, then you'll be walked through a similar pairing experience as you would on iOS. Just power on the Flex, and a small card will appear so that you can easily connect the Beats Flex.
Does the Beats Flex have Bluetooth multipoint?
The Beats Flex does not have true Bluetooth multipoint, so you can't connect to two devices at once. That said, it houses Apple's W1 chip. So just like the original AirPods and BeatsX, you can easily switch between multiple Apple devices as long as they're all associated with the same iCloud account.
How is the battery life on the Beats Flex?
Apple claims the Beats Flex has a 12-hour battery life, but we got a little less than that after we subjected the Flex to our standard 75dB(SPL) battery test. They lasted 10 hours, 24 minutes before they were totally out of juice. Although this falls short of the listed specification, you can always rely on the quick charge feature, which gives you an extra 1.5 hours after just 10 minutes on the charger. Thankfully, these charge via USB-C, so you can charge them with the same cable that charges your Android phone and laptop.
Is the Beats Flex microphone any good?
The microphone doesn't make your voice sound great. It's fine for quick calls and voice messages, but for extended conference calls, you're better off getting a dedicated USB mic for your next Zoom meeting. It does a poor job of rejecting background noise, so you may want to do everyone a favor and either use your smartphone, or get a dedicated headset for extended calls.
Best Flex microphone demo:
Loading poll
How well does the Beats Flex isolate?
If you tried the BeatsX before, then you know what to expect here. It's more of the same. The emphasized bass response (next section) is much needed to hear low notes, because these earbuds don't isolate you from your surroundings very well. These do a decent job of blocking out high-frequency sounds (2kHz and above), but struggle to keep out any low-frequency sounds. That extra volume in the low-end makes it easier to hear lower notes over outside noise. However, to preserve your hearing, you don't want to rely on loudness to drown out your environment.
How does the Beats Flex sound?
The boosted bass response is noticeable in the song No Fear No More by Madeon. When I sit in my quiet room, unencumbered by external noise, the bassline sounds overpowering. This makes sense because bass notes are tuned to sound twice as loud as low-midrange notes. However, it plays to my advantage when I walk to the grocery store because I can more easily keep tabs on the main beat.
There is also a good amount of emphasis in the upper-mids that gives a good bump in volume to vocals in songs and podcasts. The vocals in Julia by Retro Stefson are easy to hear in almost any environment. The same is true if you listen to podcasts because this amplified frequency range helps with speech intelligibility.
Is the Beats Flex worth it?
The Beats Flex is a great option for casual music and podcast listeners. Combine that with the great connection, solid battery life, USB-C charging, and most importantly the $50 USD price tag and this is a great pick.
Sure, it lacks a few things, like accurate frequency response, sweat resistance, and a sub-standard microphone system, but all of this is forgivable at this price point. Whether you're looking for a new pair of earbuds for running errands, or want a quick stocking stuffer for the holidays, the Beats Flex takes everything consumers liked about the BeatsX for a much cheaper price.
All prices listed in USD unless otherwise specified. Prices may change over time, and vary by region. Unfortunately, we cannot list Amazon prices on the site, as they vary greatly by currency.
What about the Beats Studio Buds?
The Beats Studio Buds is a middling pair of noise cancelling earphones that actually works as well with Android phones as it does with iPhones. While the Studio Buds is significantly pricier than the Beats Flex, it's still more affordable than the Beats Powerbeats Pro and is much more portable thanks to the compact design. Listeners who are drawn in by the AirPods Pro's noise cancellation but want to express their style a bit more should grab the Beats Studio Buds.
Athletic listeners may want to invest in the Beats Fit Pro instead. This pair of noise cancelling earbuds houses the H1 chip and has a 6-hour battery life. You get premium features like Apple spatial audio with head tracking, an IPX4 build, and comfortable, secure fit. This is currently the priciest set of Beats earbuds but may just be worth it for the right listener.
If you have the cash, the 1MORE Dual Driver ANC Pro offers a premium alternative
At around $150 USD, the 1More Dual Driver ANC Pro costs more than the Beats Flex, but offers a slew of premium features. It boasts an IPX5 water-resistant design and adequate active noise cancellation for the price. These wireless neckbuds also include support for Sony's LDAC codec, providing Android users with improved audio streaming quality.
Frequently Asked Questions
How do I update the firmware of my Beats Flex on Android?
Download the Beats app for Android from the Google Play store. The app will give you access to firmware updates, as well as additional device controls.